Site Map & Guidelines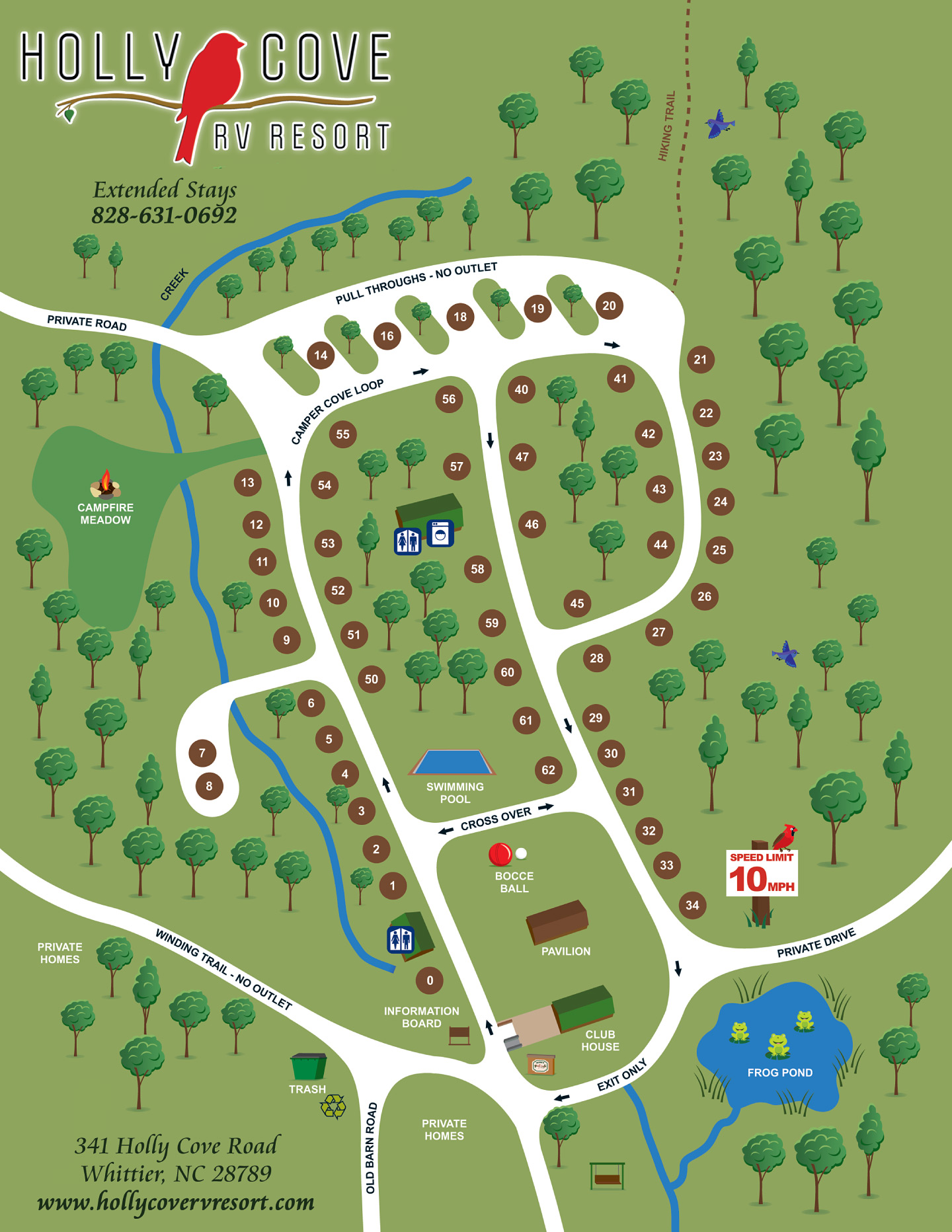 Click here to download PDF map.
SPEED LIMIT IS 10 MPH. PLEASE OBSERVE.
Leashed pets are welcome. CLEAN UP AFTER YOUR PET, and do not leave a barking dog unattended.
Quiet time is from 10:00 PM until 7:00 AM.
Do not litter. This includes cigarette butts.
Turn off your water if you leave for an extended time.
The fishing pond is catch and release.
Extended stay guests need to supply a mailbox with a flag for their mail, electric bill, and any notifications.
All rates, including seasonal, are based on 2 people.
Trash Pickup: Put all trash in a TIED plastic bag and place next to the road in the morning. Pickup is between 8:30 AM and 9:00 AM, Monday thru Friday. Do not place trash out after the 9:00 AM pickup. The dumpster is located near the barn.
LARGE ITEMS, GRILLS, MICROWAVES, TV'S, FURNITURE, ETC, MUST BE TAKEN TO THE JACKSON CO. RECYCLING CENTER, NOT LEFT BY OR IN THE DUMPSTER.
Recycling: Recycling will be picked up on Wednesday or you may take it anytime. The recycling cans are next to the dumpster. Please rinse your containers.
POOL: Hours are 10:00 am until dusk. Follow all posted rules. We are not responsible for any injuries. Please supervise children closely.
IN CASE OF EMERGENCY, DIAL 911. HOLLY COVE'S ADDRESS IS 341 HOLLY COVE ROAD, WHITTIER (OFF WEST PINEY MOUNTAIN ROAD). The emergency phone is located on the pump house beside the pool. The office phone is (828) 506-9091.